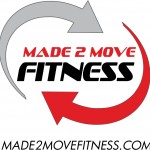 Made 2 Move Fitness was formed in 2006 by Jared Byer, a dedicated health professional who began his health & fitness career in 1992.   Jared believes that optimal health begins with proper education and continues with weekly motivation.
Over the years our clients have shaped the range of services available at Made 2 Move Fitness.  We offer a variety of Group Training Sessions (Pilates, Boot Camp and Circuit), Private Personal Training, Health Coaching, and Home Fitness Programs.
"Whatever your health needs, from weight loss to improved muscle tone we provide highly effective solutions."
We partner with other small business health & wellness professionals in a co-op manner.  Our professional instructors are all fully qualified, insured and highly experienced individuals, guaranteeing you the highest standards possible. We are here to support and guide you on your road to wellness.
Contact us when you are ready to make the change.
Made 2 Move Fitness is a subsidiary of Strive 2 Thrive Health, LLC.