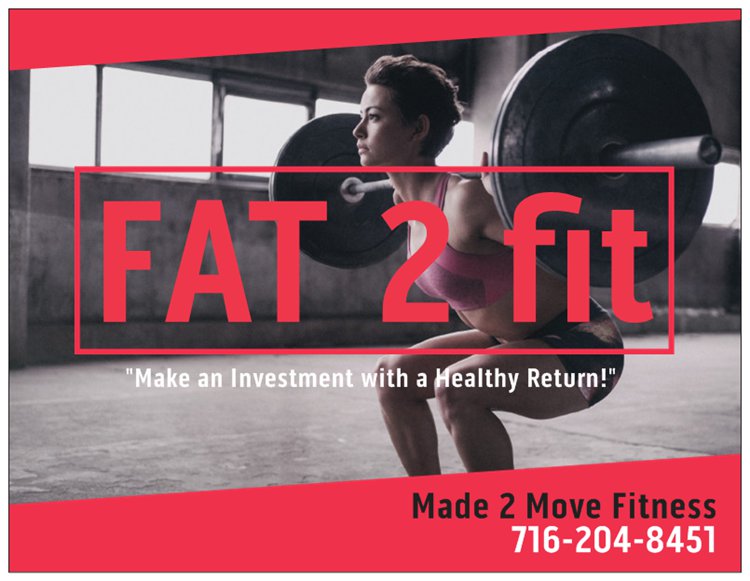 FAT  2 fit Formula:
Our 30-day Food & Fitness program is designed for adult Men & Women looking to:
Lose Weight – Get Toned – Boost Energy – Manage Stress – Improve Sleep and more…
The program combines structured Exercise and healthy Eating to produce lasting results.
Studio sessions are scheduled before/after work in small groups of up to max 9 people.
 45-Minute Group Sessions (12 available times/week)

Mon/Wed/Fri – 6:30-7:15am + 7:15-8am
Mon/Wed – 4:30-5:15pm + 5:15-6pm
Sat – 9-9:45am + 9:45am-10:30am

2-4 sessions per week recommended
Sessions are run by experienced health pro Jared Byer, HFI (25+ years experience) and are geared towards first-time to intermediate exercisers.  Groups are limited to 9 people at our Private Studio and slots are reserved using our online scheduler (See BLUE Tab to Right).
Our "Clean Eating Program" focuses on progress not perfection.  Making healthier choices and having a structured approach leads to lasting results.
"BC/BS, Independent Health, Univera Health Insurance Benefits accepted."
Group Training Packages: (45-day expiration)
12-Sessions $159
8-Sessions $129
4-Sessions $79
START TODAY …CLICK Blue "Schedule Me" Tab to right>>>